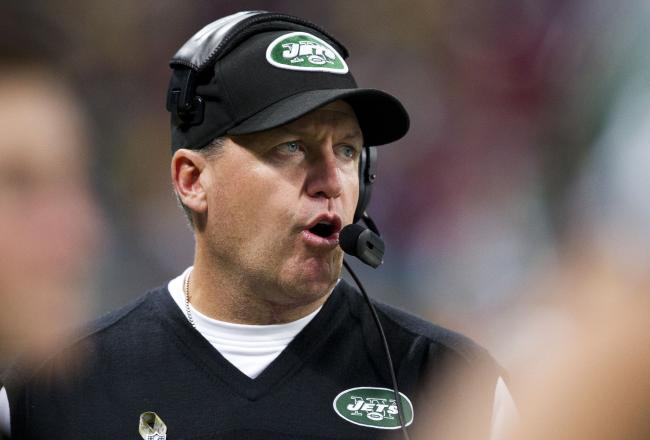 The New York Jets fired GM Mike Tannenbaum earlier this week, a move that was both expected and necessary, but they made a major mistake by holding on to Coach Rex Ryan, a man who contributes to the problems surrounding this troubled franchise as much as anybody.
Supporters of Ryan point to the fact that the Jets reached the AFC Championship Game in his first two seasons in New York and that he is a defensive genius.
While Ryan does bring some defensive coaching ability to the table, his shortcomings in other areas far outweigh whatever benefits his defensive coaching ability may provide.
In fact, Ryan is so wrapped up in his defense that he neglects other areas of his team. In 2011, Santonio Holmes, the Jets top wide receiver, was not getting along with quarterback Mark Sanchez. It got so bad that Holmes was benched in the fourth quarter of the Jets season finale, a game the Jets needed to win in order to have a chance at making the
playoffs. Ryan was unaware of the feud. One player said he had never been in such a divided locker room before. Ryan vowed to be more involved in his offense and to pay more attention to the entire team in 2012.
It didn't exactly turn out that way. This season, the Jets locker room again seemed divided, this time over whether or not backup QB Tim Tebow should get a chance to run the offense when Sanchez's play was so bad it could only be described as downright embarrassing. Again, the locker room was divided but Ryan was either unwilling or unable to stop it.
Later in the season, leaks about what Tebow allegedly said or didn't say about his willingness to run the Jets wildcat offense after Rex started Greg McElroy ahead of him also made Ryan look bad. Either the coach misinterpreted what Tebow said or he was planting stories in the media to make his backup quarterback look bad. Either way, it doesn't bode well for Ryan's ability to lead the team.
It was clear from day one that Ryan had no use for Tebow and he did nothing to integrate the former Heisman Trophy winner into his offense despite the fact that there were constructive ways to do it. All season long, we heard about "secret" plans to use Tebow. The secret must have been that Ryan thought Tebow couldn't play quarterback and would only insert him in a game to whet the appetite of Tebow's sizable following just enough to keep them interested. The net result: the Jets offense sputtered and Tebow lost whatever potential trade value he had to the Jets.
The offense as a whole was again a major failure in 2012. Who did Ryan bring in as his offensive coordinator for this season? Tony Sparano. The ex-Dolphins head coach was brought in to run the wildcat and the "ground and pound" attack that was more successful in Ryan's first two seasons as Jets coach. The Jets running attack under Sparano was average at best, their passing offense was among the worst in the league.  The team never truly established an offensive identity.
Another problem with Ryan's leadership is his blustery and boastful style that makes him resemble the ringmaster at a circus. While owner Woody Johnson never met a back page story about his team he didn't like, Ryan's empty boasts result in his total lack of credibility.
Before this season, the Jets head coach once again said this was the most talented team he had since he came to New York and said the club should be Super Bowl contenders. While it's OK to try to boost your team's confidence, Ryan said this every year despite the obvious fact that the Jets' talent level was clearly headed in the wrong direction.
Even this year while the frequency of his boasts were reduced, Ryan still said enough silly things to make any intelligent observer of the game tune him out. When you're winning, the circus surrounding the team is tolerable, but when you're losing, it gets downright embarrassing.
As for Ryan's defense, it is not quite as good as advertised. Sure, Ryan supporters can point to top 10 finishes in yards allowed, even in the past two losing seasons. But the most important defensive statistic is points allowed and the Jets finished 18th in that category in 2011 and 20th this season, hardly championship numbers.
More importantly, Ryan's defense broke down at key times late in games way too often even when the team was winning. With the game on the line, the Jets defense was at its worst and cost them more than a few wins each season.
Keeping Ryan on for another season will also hurt the Jets chances of bringing in a quality GM. The new hire goes into the job knowing he is stuck with a coach he didn't choose, a bad salary cap situation and a quarterback that is among the league's worst. The fact that the Jets must give Sanchez $8.25 million in guaranteed money this year means they are stuck with him on their roster for at least 2013. This is a quarterback driven league and unless the Jets can draft a QB who can start right away, they will be put deeper into salary cap hell by signing a free agent to hold the job until they can develop one.  So the new GM would take over a team with a bad salary cap situation, a coach he didn't choose and one of the league's worst starting quarterbacks. That's hardly a desirable situation for a new GM and a smart one with choices would head elsewhere if at all possible.
The bottom line is that Ryan did a poor job the past two seasons and is as responsible as anybody for the Jets failures. He may be a very good defensive coordinator, but he is not well-suited to be a head coach.
The Jets set their team back at least another year by holding on to Rex in 2013.  Unless major changes are made to the roster and mentality of this team, then the chances of a turnaround by the Jets in 2013 are somewhere between slim and none.